Stay abreast with the rapidly changing ICT environment. InfoCom delivers an integrated suite of complementary products which includes Figures & Forecasts, Strategic Papers, Insights and Special Reports - all accessible inside our online ICT market intelligence portal.
Teleseeq Interactive Dataroom
TELESEEQ was first developed in 1986 as an in-house system for cross-checking and modelling market data in order to have realistic and reliable data results for InfoCom's studies. This global database now covers over 80 countries in 10 regions, providing operator market shares, revenues, forecasts, historical trends, and indicators of key telecoms and IT services.
InfoCom developed a stringent methodology for the assessment, elaboration and modelling of market data, and figures gathered. This complex process goes under the name of Consistency Model that outlines data until the last relevant split.
Competitive pressures, market consolidation, new business models, market volatility, and shifting customer demand. All these issues make the tracking of traditional as well as new markets more difficult than ever - that is why InfoCom created our comprehensive suite of monitoring services.
Interactive Dataroom | Quarterly or Annual Monitoring Services + 5-year Forecast | Wholesale Market Data | Company Profiles | Country Profiles | Dashboards | Top-10 Telecom Groups
Monitoring Services
Mobile Broadband
Fixed Broadband
Mobile Voice Traffic
Fixed Voice Traffic
Fixed Line Loss
Television
Dataroom Features
Select data by annual or quarterly figures
Select by year, product, company or country
Make multiple selections by product
Filter data by product & company
Filter data by country, year & currency
Sort data in ascending or descending order
Edit parameters in the middle of a query
Export data query into an Excel file to create pivots
Save & print query for future reference
Historical Coverage
Over 15 years of performance monitoring & market sizing
With historical data starting from year 2000 onwards
Includes 5-year forecast reviewed annually
InfoCom's full-scale research for the telecom, media, and IT industries encapsulates hundreds of special reports, expert papers, and datasheets.
Our wide-ranging expertise - from enterprise network infrastructure, to ICT security, to unified communications - places InfoCom in a unique position to provide a holistic output and insight on the global pricing evolution of these enterprise services.
Enterprise ICT Solutions Tracking
Cloud Connect
Data Communications
Enterprise Managed Mobility
Enterprise Managed Networks
IT & Network Security
Software Defined Networking (SDN) & Network Functions Virtualisation (NFV)
Unified Communications & Collaboration
Voice / SIP Trunking
InfoCom delivers up-to-date rigorous analyses of the latest telecom trends and innovations. This is primarily based on our ongoing ICT research programs, monitoring services, and analyst discussions with business customers, telecom carriers, and regulators across Europe, Asia Pacific, and the Americas.
Our expert discussions cover major technology or infrastructure investments and rollouts, M&A activities, regulatory developments, product and service innovations, and more.
Strategic Overview | Key Performance Indicators | Motivation & Drivers | Product & Market Evolution | Operator Initiatives | Deployment Strategies | Impact Assessment | International Best Practices
Radius of Topics
Data Centre & Cloud Services
Enterprise Managed Mobility Services
Enterprise Managed Networks
Fixed Broadband
Fixed-Mobile Convergence
IoT, AI/ML & Big Data
IT Security
Metro Ethernet
IP-VPN Services
Mobile Services
Multimedia & OTT
SIP Trunking
Software Defined Networking
Unified Communications & Collaboration
Workplace Solutions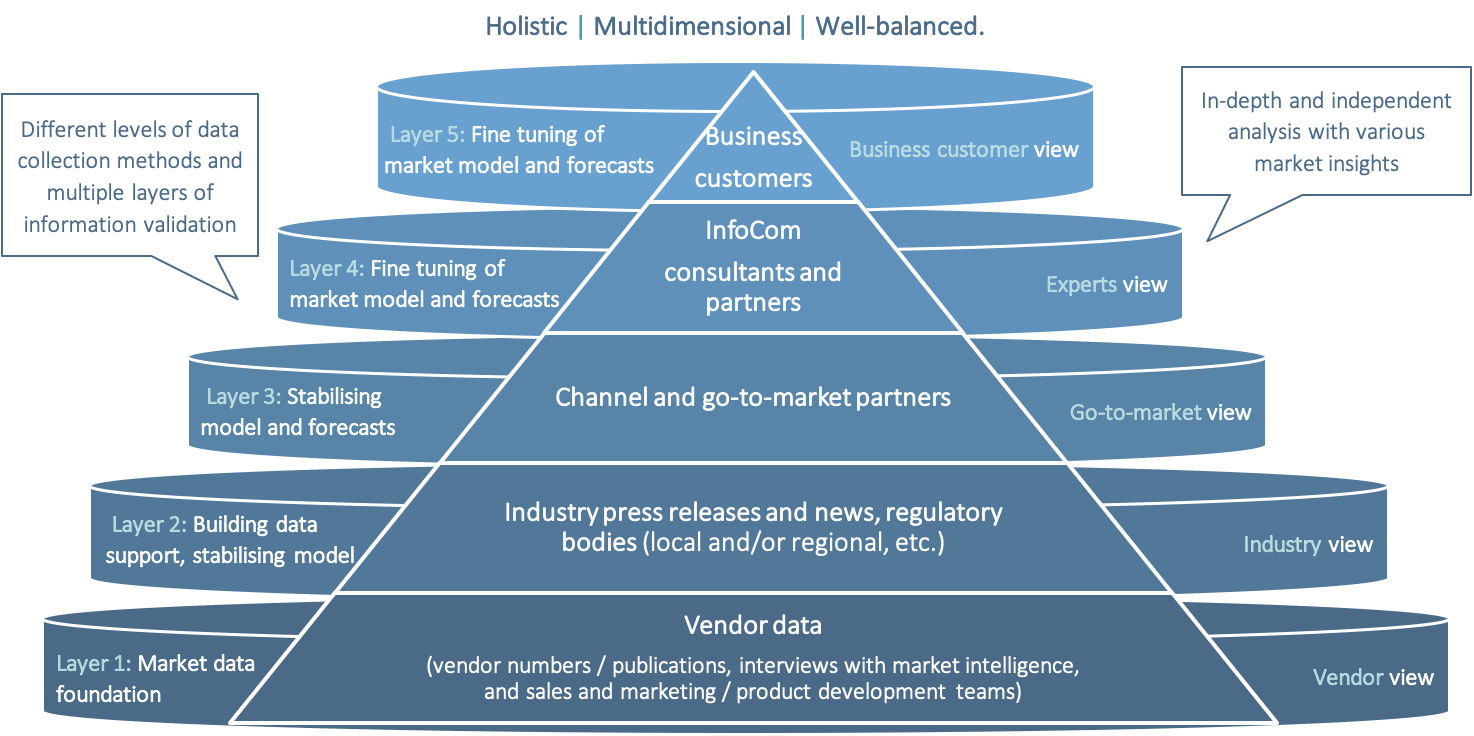 InfoCom's Multi-pronged Market Validation Approach