The company network has become strategic to an organisation's ability to achieve its business objectives. Our Engineering & Global ICT consulting service is all about engaging with you to better understand how you can leverage your network, optimise technologies seamlessly into your environment, and create your ideal work place.
Technology Audit & Consulting
It is very important to ensure that your existing infrastructure meets exactly your needs, current and future. For this reason, you need qualified and experienced IT audits professionals, with a vast array of skills, as systems and applications are often numerous and complex. We draw on our experience with in-depth market knowledge in the fields of information technology and telecommunications.
InfoCom is completely independent from telecom carriers, manufacturers, IT vendors, and system integrators. Our neutrality is your best assurance that our professional services are unbiased.
Technology Audit Report
The audit usually results in a detailed report with very practical recommendations on how to improve or leverage your communication & IT infrastructure in order to:
Save costs
Reduce security risks
Improve communications & collaboration
The audit report can also serve as a guide for decisions regarding strategic business initiatives, to right-sizing internal & external IT practices and systems.
We benchmark offers and bring more weight to negotiations with IT suppliers during the procurement. The quality of our benchmarks ensures the benefits of your investments and, therefore, adds value to your decision-making process, to the tender process, and during the negotiations.
Our Tender Support Service
We benchmark the offers
We check how they are tailored to your needs
We check the feasibility
We benchmark the SLAs
We negotiate additional services
We follow the implementation
Cost Optimisation Analysis
From the analysis of requirements, through the design of your solution, until the final implementation, we partner with you throughout the process.
We help you secure that your much-invested infrastructure and technology are well implemented and managed accordingly to realise its promised benefits.
Analysis of your ICT services such as
Connectivity Services: MPLS, Ethernet, Internet Access
Voice & Telephony Services: SIP Trunking, UCC (On-site/hosted/cloud UC/PBX systems, VoIP)
Mobile Services: Business Mobile & Mobile Data Plans
IT Services & Applications: SD-WAN, security LAN/WLAN networking, Data Center, Cloud Services or Applications
InfoCom provides you a strategic and tactical recommendations on where technical innovations are possible, and who are the best-placed vendors and providers that you can consider for your company's particular use case. As an independent consulting firm, your management can absolutely use the insights that we gather to decide further on the next steps in your digital transformation.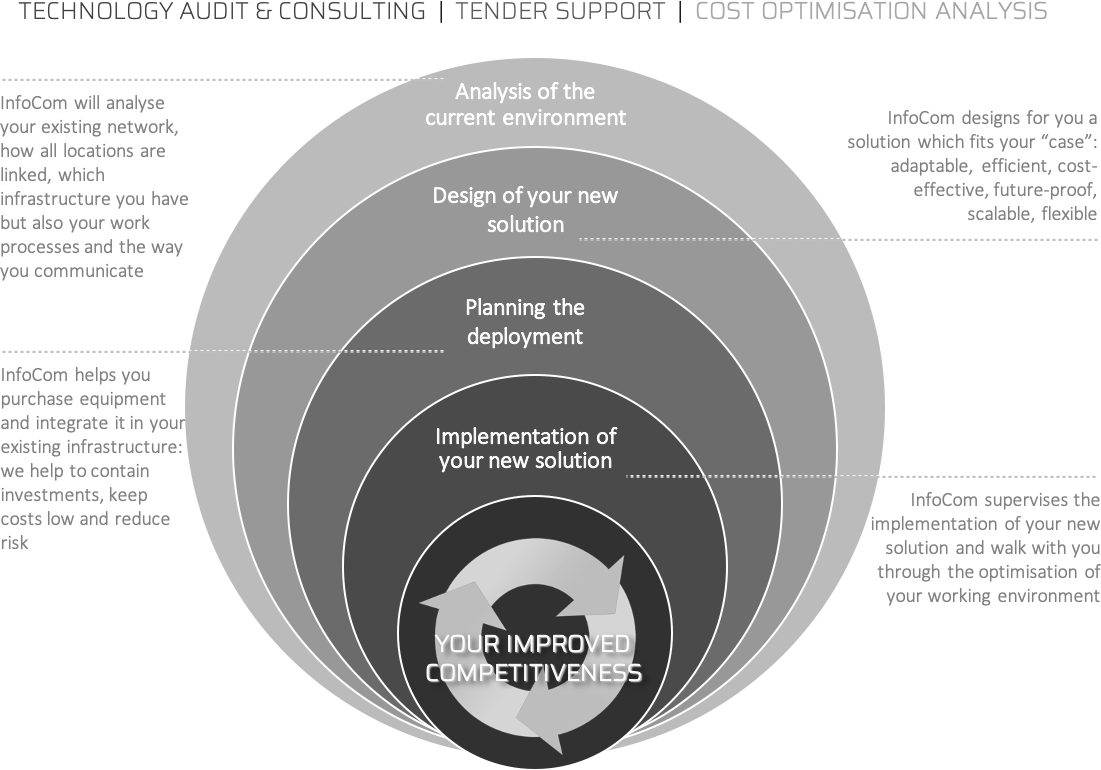 InfoCom's Engineering & Global ICT Consulting Approach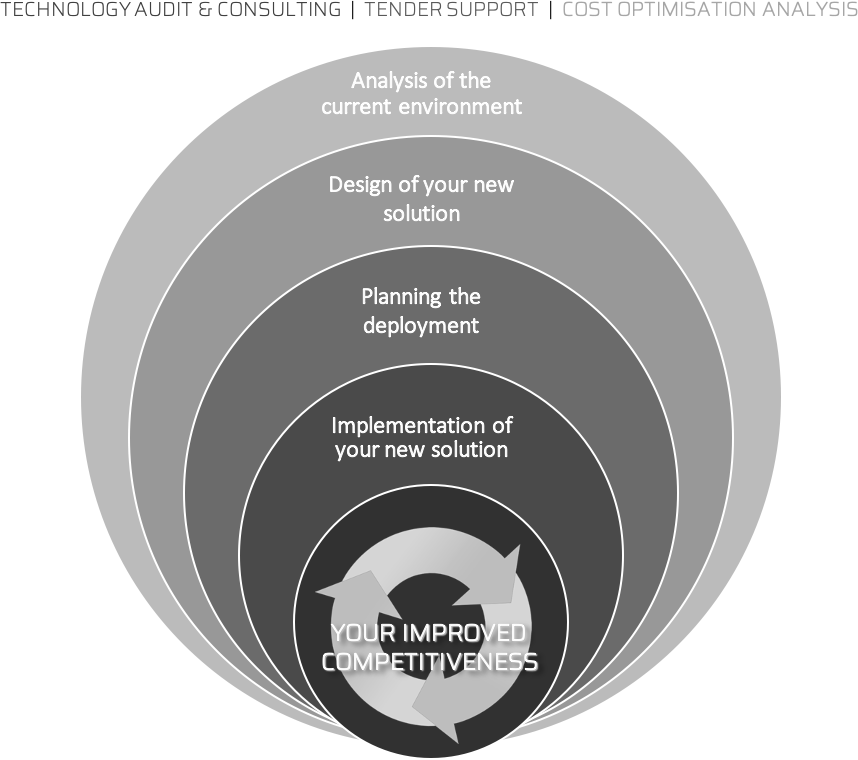 InfoCom's Engineering & Global ICT Consulting Approach